Jetting® SoSmart
Aug 15, 2020
Although many different types of screws are used to fasten wood, many are applicable mostly to construction work, and a relatively small number of types are commonly used in fine woodworking projects. When professionals speak of "wood screws," they are often using the term to refer those types of screws common to woodworking projects, not those used in construction work, drywall assembly, or for decking or fencing building. All wood screws have sharp, aggressive threads and a wedge-shaped shank designed cut and bore into wood, but within this overall definition there are many differences in types and styles. Since 1995 we have kept exploring the knowledge and developing several unprecedented patents that have earned reputation from the passing decades. As a pioneer in multiple-threads fastening technology with more than 25 year record of developing, Multiform Fasteners Co., Ltd has profound researching ability to innovate functional-based products with utmost quality.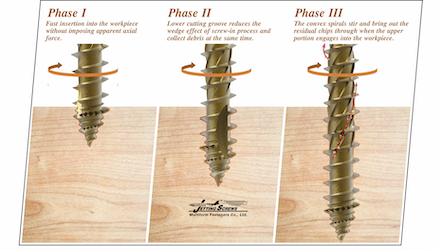 This year the new promising product, Jetting® SoSmart, is enrolled into this Patent Family and has been successfully promoted into the market. The installation of 3 unique elements on the screw body provides upgraded functions and solution to most common installation discomforts. This is known as "construction screws" or "multipurpose screws that have largely replaced other types of utility screws for making structural connections, and are especially good for furniture assembly. For example, the driving excellency of Jetting® SoSmart is illustrated in belowed Diagrams 1 & 2 indicating the better installation characteristics compared to the previous generation, not to speak of common wood screws.



Hardened steel is used for Jetting® SoSmart as they are hard enough to penetrate the hardest materials without drilling pilot holes, and they rarely break. Unlike the traditional way to harden steel, we manipulate the new way to elevate its breaking torque to a higher level. By being treated with specialized carburizing method, the spheroid carbide can precipitate in the microstructure for secondary strengthening. This precipitation hardening effect can make sure the screw having high stiffness so they can absorb substantial impact energy. If zinc-plated or treated with another coating, they have good resistance to rust and can be used outdoors. To get more technical data, please contact us for further detailed report.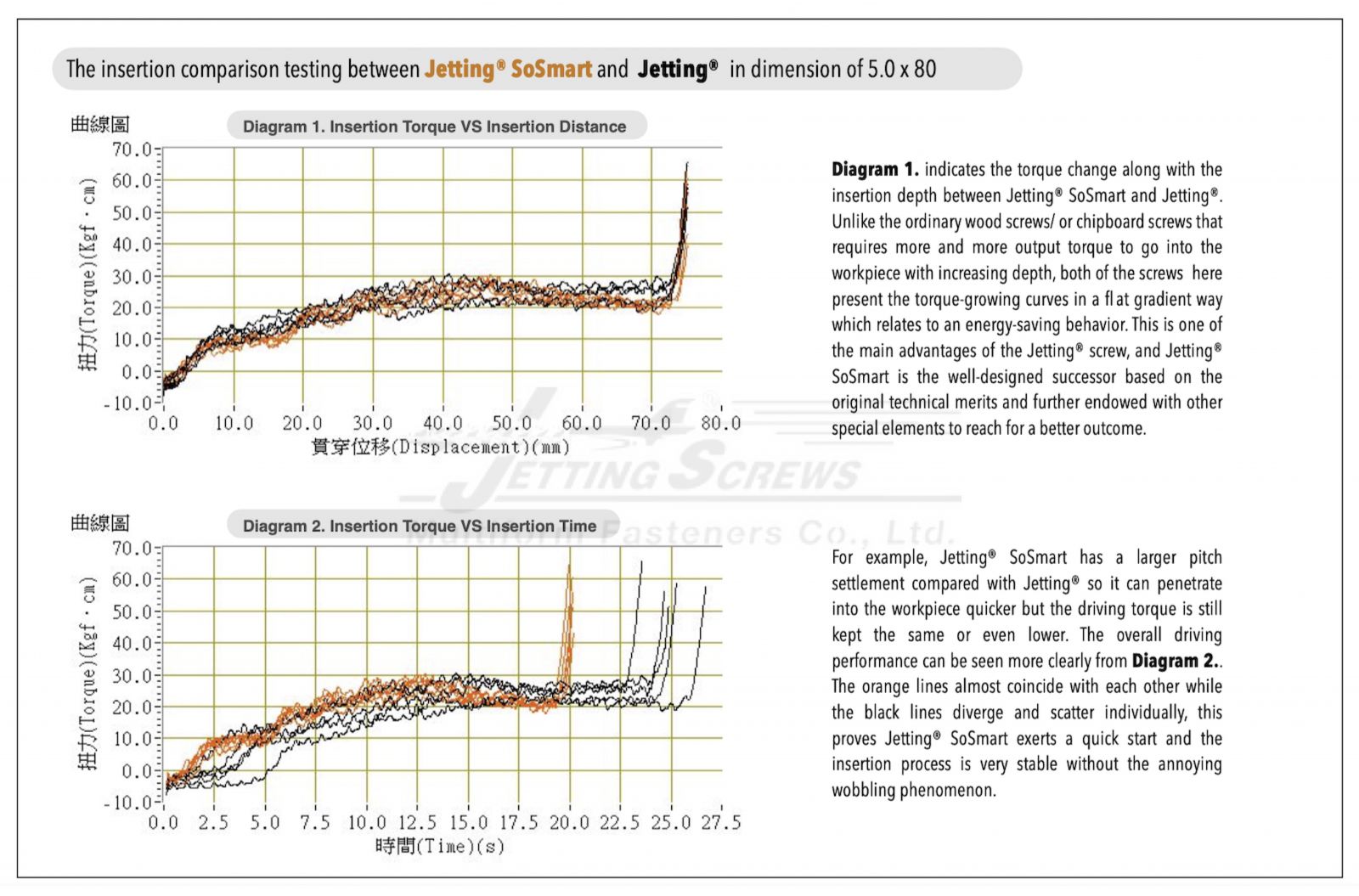 Especially the timber construction has been built more and more in recent years whether only the roof trusses or the whole framing are made of lumber or engineered wooden material, Jetting® SoSmart can serve well for all applications. To evaluate the functionality and/or performance of wood screws, there are different parameters indicating the fixation ability corresponding to construction safety. Jetting® SoSmart integrates several functions together to meet the special demands placed by the timber construction sector on connection technology in terms of quality and safety, and is successfully certified with CE marking that sets up rules apply to the use of building products, which guarantee a high safety standard.


We understand the customer demand across several dimensions of value such as user satisfaction and competence of our representative products. The performance of Jetting® Screw in these areas are extraordinarily high, but the most telling aspect is whether or not the product can be commercialized successfully. And we are delighted to say that in feedback surveys of Jetting® Screw over years, our products deliver the best customer experience and have been spread globally. We strive to provide every customer our products with performance excellence in every interaction, and we believe Jetting® SoSmart is the next brand promise to you and commitment to supply sustainable competence advantage.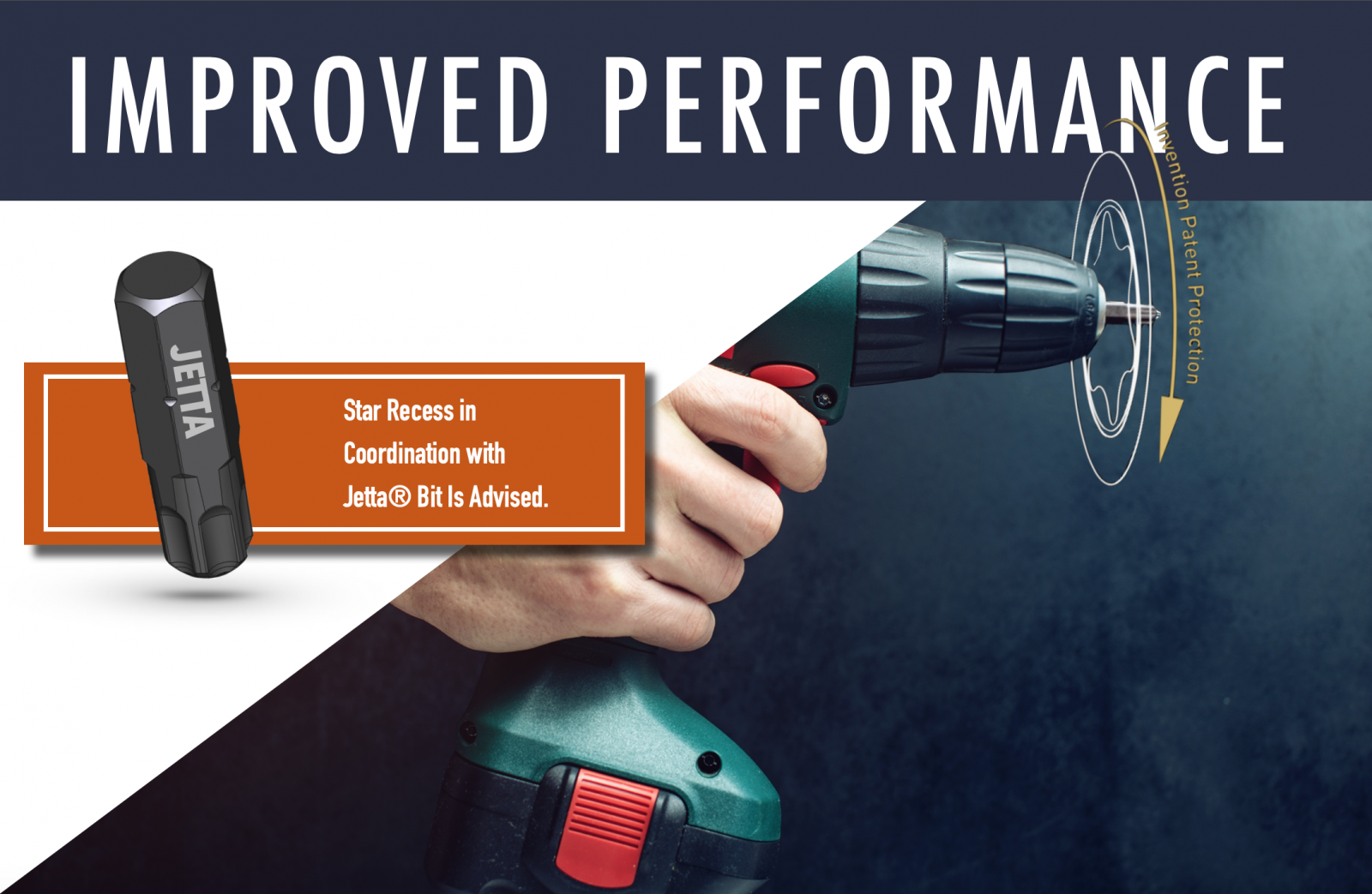 TOP